Ever wonder why you agree to do something that makes perfect sense and is immensely beneficial, but fail to follow through? This happens all the time – in finance, fitness, business, school, getting stuff around the house, etc.
This phenomenon has been studied extensively, especially as it relates to behavior and economics. Agreeing to do something that is logical and beneficial today, yet failing to act accordingly tomorrow has been termed "dynamic Inconsistency"(Laibson 1997). For example, if a group of people are educated about the benefits of investing only say $10 a week yielding thousands in returns in the future, most everyone would agree that this makes sense and commit to doing this. Yet, a few days later in the week when it's time to go to the bank, few actually do this. This phenomenon has been demonstrated as a consistent human behavior.

As you can imagine, I'm particularly interested in this issue as it applies to health and fitness. Few people I come across argue the logic of exercising and eating right to feel better and be healthier, yet many fail to follow through.
Sometimes even the best routines, proper instruction, and accountability through scheduled appointments are not enough to ingrain the habits required to achieve health and fitness goals.  In spite of navigating around common barriers, like a lack of time, knowledge, injuries, or motivation – they still struggle. Why?
So I racked my brain and searched the evidence to solve this issue, and realized that there are well established practices that do work to transform behavior change. The problem is that they often aren't being applied in the realm of health and fitness. Until now…
A few months ago we released our new CARES system to our clients as an additional bonus to their training program with Spectrum. The CARES system is our answer to the void that exists in most health and fitness endeavors, but no more with our Spectrum clients. It's a simple and highly effective method of assuring focus, accountability, and support required to reach important goals.
We first rolled this program out a few months ago to the entire fitness staff, and then to several clients who elected to participate. We have seen some amazing results from this approach already.

Below is Peter, who is 86 years old and was significantly deconditioned and at risk for falls when he first started working with us a couple years ago. Now, he is stronger that most half his age. His strength progress has exceeded expectations. He jumped at the chance to participate in our CARES program and sited doing 3 pushups off the floor as one of his goals to be accomplished by July. This is what we saw on 5/15: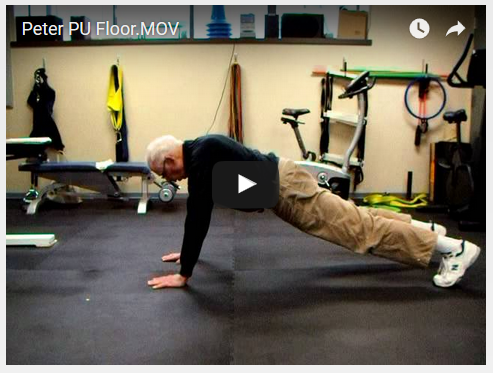 We have a policy amongst the trainers at Spectrum called Walk the Walk – if we are going to expect our clients to do difficult and amazing things, we need to do the same for ourselves. Accordingly, the Spectrum Team implemented the CARES system for ourselves. Our trainer Dave Knight came up with a particularly ambitious goal: gain 5 lbs of muscle in one month! For a highly conditioned individual who has been training for several years, this is a huge feat to accomplish in 1 month without packing on fat! Here are Dave's before and after measurements:
Start – 3.29.12
Height: 5'6
Weight- 166.5
% BF- 10.7
BF in #- 18
Fat Free Mass- 148.5
End –  4.27.12
Weight- 172.5
% BF- 10.9
BF in #- 19
Fat Free Mass- 153.5
Our client Zach Fine worked with us for a few months earlier this year and amongst his goals was to reduce his cholesterol. Although Zach is still working on his goals to be hit later in the summer, he has already nailed one of them. His cholesterol improved from 394 to 137! Simply awesome!
Our CARES system is a major addition to support the client's hard work with our programming and instruction to give a truly comprehensive long term solution to improved health and performance.
The best way to learn more about our CARES system is to have a consultation with us so we can learn more about your needs and you can see if we are the right fit for you. Click here to get started. Spectrum CARES – that's why we get results. Now it's your turn.